The third installment of footysphere's Five Fun Facts feature. Last up was Newcastle United so it's only right to redress the North-East balance by today showcasing their bitter rivals Sunderland AFC. Thank you to Simon Walsh of The Roker Report for this guest post.
1. We've been involved in three record-breaking transfers.
Yeah, it's not just your Manchester City's and Real Madrid's of the world breaking transfer records, Sunderland have had their share too. In the early part of the 20th century, Sunderland were the selling team twice. Who'd have thought little old Sunderland would have two of the most coveted players in the world, but we certainly did. In 1904 Andy McCombie was transferred to the dark side of the North East when Newcastle decided to splash out a massive £700 for the Scottish Right-Back.
It was only one year later when McCombies former team mate, striker Alf Common, became the world's first £1000 transfer as he moved down the road to Middlesbrough. It only took another 17 years for Sunderland to bother spending any of the big money received, when they broke the bank to sign Warney Cresswell from South Shields FC for £5500. South Shields could have invested wisely, but now find themselves in the lower reaches of local league football.
How's that for a turn-out? Involved in more world record breaking transfers than Arsenal, Chelsea and Manchester United combined.
2. We signed your manager!
Sunderland became the first club to sign someone's manager. What? Well in 1949 we made a bid for Carlisle United player-manager Ivor Broadis. Broadis handled negotiations himself, accepted the bid for himself and he was over to Sunderland for a fee of £18,000.
Carlisle can't have been too disappointed mind, as Broadis was replaced as manager by some bloke called Bill Shankly. Nah, I've never heard of him either (just kidding LFC fans).
3. Super Kev – Best In Europe
In 1999-2000 season, "Super" Kevin Phillips was already a legend on Wearside. Seemingly ready to write himself into the history books further, the pint-sized striker went on that season to bang in 30 Premier League goals, and swipe the European Golden Shoe from Porto's Mario Jardel.
Easily Kevin's most successful season, and he achieved it whilst at Sunderland. These displays mean that SuperKev is the first and last Englishman to win the accolade, and he did it whilst on Wearside. What a man.
4. We lost in the play-offs, but got promoted anyway.
Cast your mind back to 1990, Sunderland taking on Swindon Town in the 1990 play-off final for a place in the top tier of English football and Wearside hearts broken by Alan McLoughlin's goal as we slumped to a 1-0 defeat. Not to Fear! A huge debt of thanks goes to Swindon Chairman Brian Hillier, who later admitted to all 36 charges of improper conduct against him, 35 of which were for illegal payments.
We took their place in the top tier, and although we slumped to immediate relegation, we still enjoyed a season against the big boys. Not to mention we'd be back at Wembley one season later, to lose the FA Cup final against Liverpool.
I'm lead to believe we might be the only team to lose a play-off final and still get promoted.
5. FA Cup Giant Killing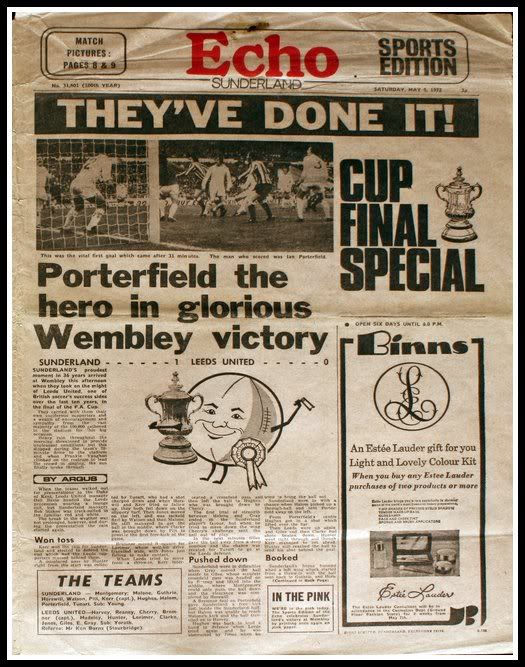 Whilst I'm sure everyone, not just Sunderland fans, remember the 1973 FA Cup triumph when second division Sunderland overcame the mighty Leeds United in what was one of the biggest upsets in the tournaments history. We also have suffered some shameful defeats in the tournament.
During a particularly bad slump after World War II, SAFC succumbed to Yeovil Town in the competition. This was the first time in the FA Cup's history that a non-league team has beaten top-flight opposition.
So there you have it, Sunderland, although not particularly successful in the FA Cup, are probably the only team to suffer the highest of highs, and lowest of lows when it comes to "Giant Killing".
---
Thanks to Simon for those super Sunderland facts. Why not check out The Roker Report podcast on iTunes and also give them a follow on Twitter.