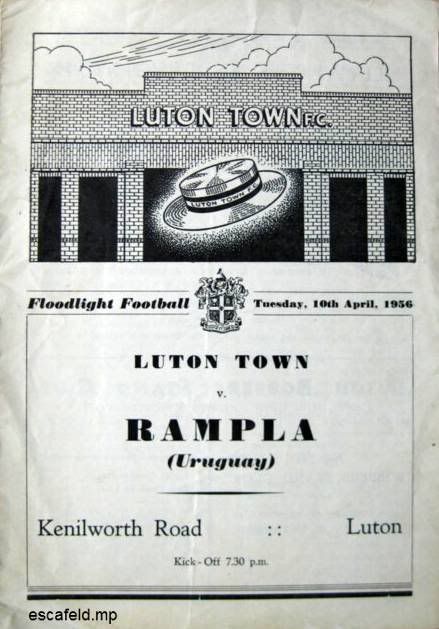 Uruguayan club Rampla Juniors embarked on a huge global tour in 1956. Over the course of 71 days they played 24 games in 8 countries. They visited Brazil, Spain, France, Germany, Denmark, Israel, Turkey as well as England. They recorded 11 wins, 6 draws and only 7 defeats, a quite remarkable record given that they averaged a game every 3 days.
The English leg of their tour saw them take part in a number of floodlit friendlies. The programme cover above shows their game at Kenilworth Road on Tuesday 10th April. The day after, on the Wednesday, they played Portsmouth at Fratton Park & became the first Uruguayan club to record a victory on British soil with a 3-1 win.
The following week they visited Queens Park Rangers on Wednesday the 18th & then Watford on the Thursday. I've not been able to find the scores from these two games. They also played Leeds, Mansfield, Southampton & possibly Burnley but I haven't been able to confirm the dates these games were played.
Read more about Rampla …